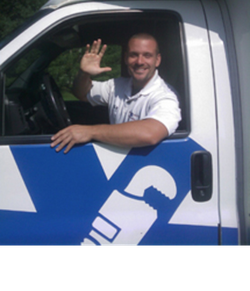 Northwest Ohio's Premier Plumber
Plummer Enterprises was developed to give Northwest Ohio a 'go to' plumber for commercial, residential, industrial and municipality plumbing projects.
Countless clients count on us because of our investment in the latest equipment, top tier trained service technicians, a positive attitude and prompt service.
See What Our Customers Are Saying About Us!

"To their credit, the service rep came out that day and fixed everything to my satisfaction. They did not charge me any more for the job. I think this is their biggest plus as a lot can be learned from a company when you ask them to come back out and fix something after they've been paid. Service rep was very courteous and professional."
John U., Perrysburg, OH
"All in all, Wagner was very professional and reasonably priced. I would use them again."
Mike C., Perrysburg, OH
"Removing the old disposal proved as challenging, it had not been mounted correctly: threads were stripped AND corroded. He was done about 45 minutes later. He checked everything, but no hot water was coming out. He bled the system, and corrected the problem. I had him inspect a couple of other faucets in the condo (that had been vacant for almost 2 years), which he did very graciously. I had a couple of coupons, and he let us use both. Pipe Doctor's Plumbing's rate may have been higher than the competition, but the job was well done. We would recommend them to anyone."
Olivier K., Toledo, OH
"I have used Pipe Doctor for various plumbing issues over the past 3 years. The plumbers are always courteous, professional and perform excellent work. They recently installed a new toilet for me. They are always on time and I have never had a problem with the work they perform. They are usually here within an hour of when I place the call. I have recommended them to a friend who was also pleased with their service. I plan to use them again when needed."
Debra V., Toledo, OH
"They are consistent, professional, and very friendly! It was a pretty hot day out and they were as nice as could be and very professional. I like to ask questions and learn about different things and Dwayne didn't mind filling me in on details about everything."
Kim B., Toledo, OH
"Your technicians were very professional. They arrived on time as scheduled, did great work and even cleaned up when they were done.
Lauri B., Holland, OH

Award Winning Service
With generations of experience delivering the highest quality service available to our customers, Plummer Enterprises has become a leader in the industry with its A rating with the BBB. Plummer Enterprises is the trusted and reliable provider for plumbing, heating, cooling, electric, and drain & sewer cleaning services in Ohio.
Proudly Serving the Northwest Ohio Area
Including Bowling Green, Findlay, Napoleon, and Toledo