Sewage Ejector
Repair, Replacement, and Installation
Sewage ejector pump helps move wastewater
Occasionally, a toilet or even a sink needs to be installed below the nearest sewer or septic line, and the waste from the drain must be lifted to the level of the main drain. A sewage ejector pump solves this problem and is used when wastewater cannot flow to its destination by means of gravity at a velocity of at least 2 feet per second.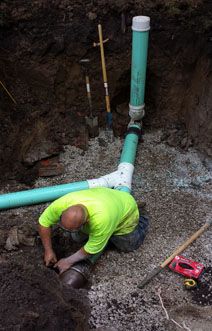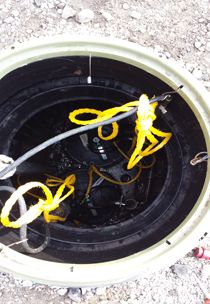 Sewage ejector repair and replacement:
Quality built sewage ejectors, maintenance free 10 year warranty, built to last 20 to 40 years.
Powerful 100 GPM flow rate.
Non-clogging pumps for unscreened sewage, waste water, sewage lift stations and industrial waste.
Best Sewage Ejector pumps can fit existing installations without piping changes.
'Quik Jon' from the Zoeller Pump Company is a self-contained system that has everything but the toilet,

the final plumbing drain, and the water hookups. Quiet, leak-proof, and odorless.

You'll also have the confidence of knowing it was installed properly by an experienced professional. Whatever you need Best can help.
New sewage ejector installation:
Class: There are two classes of submersibles sewage ejector pump, the smaller pump is used in home and light commercial, and larger pumps for large commercial buildings and municipal wastewater systems.
Size: The farther the distance the waste must be lifted, the more powerful the pump must be to do the job. A whole-house system must be larger and more powerful than one that services only one toilet. Residential sewage ejectors normally handle up to 2-inch spherical solids and range from 1/3 to 2 horsepower and are available in two types, non-clogs and grinders.
Non-clog and grinder type pumps:
Non-clogs pump high volumes and can handle solids from 2 inches through 4 inches and are used both in residential and municipal lift stations.
Sewage Pump Lift Station:
Grinder pumps grind solids instead of passing them. They are sized only for residential or small commercial locations, often pumping to a pressure sewer system but also in gravity sewers with high vertical lifts or long horizontal runs.
Ejector pumps can be installed in wet pits or sewage basins and typically sits in a hole cut through the concrete slab floor. By installing the ejector beneath the floor, the fixture need only be raised minimally to accommodate the flange and waste pipe.
Installation:
Some cutting of concrete will be involved in basement installation as well as digging down a few feet will add to the cost as well as the difficulty of installation.
Call an experienced plumber for proper sizing and installation of a sewage ejector pump system. Call Plummer Enterprises at 419-740-7126.
Saniflo Installation in Ohio
We are the preferred installer of Saniflo products in Northwest Ohio. Often times a home or facility is limited to where toilets, sinks or showers can be installed due to the layout of plumbing. Saniflo's line of macerators and pumps give you the opportunity to install bathrooms or kitchens where once thought impossible!
Saniflo has much to offer home and business owners in Northwest Ohio, for bathroom, kitchen and laundry room applications. Call Plummer Enterprises., Ltd. today for a quote for your remodel bathroom project on Saniflo in your Northwest Ohio home or commercial facility today at 419-740-7126.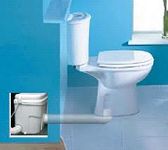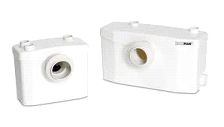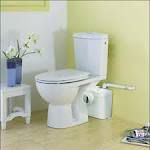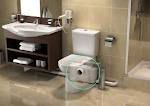 What Is Saniflo?
The Saniflo product line includes solutions for the installation of toilets, showers and sinks. Saniflo can be a great solution for both South Jersey homes and South Jersey businesses, increasing the efficiency and opportunity for plumbing wherever they are installed. Always wanted that half bathroom in your basement? Traditional plumbing most likely makes this impossible because of distance between the basement and the main drain pipe. Saniflo is the perfect solution to this problem! Saniflo toilets and Saniflo sinks use macerator units and water pumps to elevate the water and waste to the designated soil stack, septic tank or sewer. Wherever you were once told plumbing was not an option, Saniflo is now your answer! Plummer Enterprises, Ltd. Saniflo Special in Northwest Ohio
For a LIMITED TIME ONLY Plummer Enterprises is offering excellent deals on Saniflo Installations in Northwest Ohio! Get $250.00 OFF Full Bathroom Saniflo Installation. Call 419-740-7126 to redeem the offer today!
Saniflo Macerator Units & Saniflo Pump Systems:
Saniflo macerator units are small motorized macerators that are designed to quietly pulverize toilet paper and human waste into a fine slurry before pumping it away. The pulverization of waste and water that is moved through the toilet, sink or shower is crucial. The product of the maceration process is a fine slurry, which then allows the Saniflo pump to move the waste to its correct destination of removal.
The Saniflo pumps will elevate the waste slurry through a series of small pipes, leading it to the same soil stack, septic tank or sewer the rest of the waste from your regular plumping is drained to. These units are easy to install, and can often times be hidden when installed behind the wall. In some cases the Saniflo macerator can only be used with the installation of a Saniflo toilet also. All installations and applications of Saniflo sinks, Saniflo toilets and Saniflo showers are different.
Plummer Enterprises offers FREE In-Home Saniflo consultations, so you can find out firsthand what Saniflo products have to offer you and your home. Call us today at 419-740-7126 and ask to schedule your Saniflo Consultation today!
Plummer Enterprises,Ltd. - The Preferred Installer of Saniflo in Northwest Ohio
Call 419-740-7126 for more information on Saniflo in Northwest Ohio today!
Proudly Serving the Northwest Ohio Area
Including Bowling Green, Findlay, Napoleon and Toledo