Residential Home Standby Generators
Back Up Essential Circuits or Your Whole House
24/7 Automatic Power Protection
Owning a GENERAC generator is easy and affordable. Protect your family and home from damaging, dangerous power outages for about the same cost of a central air conditioning unit. Increase your home value and provide your family instant relief when the power goes out.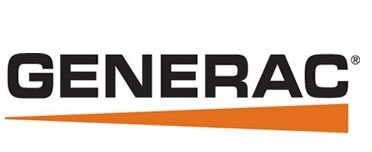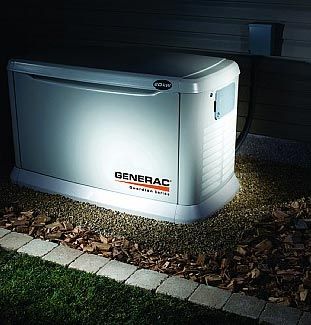 Most People Are Not Prepared for a Power Outage
A power outage during the winter results in the loss of light and could result in the loss of heat and burst pipes.
A power outage in warm weather climates could result in the loss of air conditioning and mold damage. In any climate, food left in refrigerators or freezers without power is likely to spoil.
These are significant issues with expensive consequences. Luckily, they can be avoided. As the #1 selling home standby generator, GENERAC automatic standby generators provide peace of mind for home and business owners. No other name in the industry compares.
Convenient hands free operation
No fueling. No manual start. No extension cords.
Clean smooth power
True Power™ technology provides safe operation of sensitive electronics.
Powerful output
Higher outputs for greater starting power.
Easiest installation
Pre-wired, pre-packaged system.
Ultra quiet
1/3 the sound level of a portable generator.
Long-run, long-life operation
Generac OHVI® engine built for high demand generator use.
More Protected. More comfortable.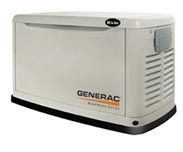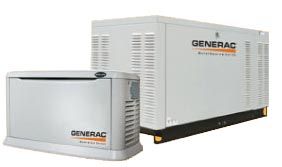 Sizing Home Standby Generators:
Need help sizing a standby generator? Call us today and we'll come out, free of charge, and do a Power Needs Analysis. This will tell us exactly how much power you'll need out of your generator.
Air-Cooled Residential Generators:
Generac automatic standby generators provide peace of mind for you and your family. Every Generac Series generator offers 24/7 power protection, hands-free operation and the easiest installation available. Sales, parts and service.
Models:
#5837, 7/6 kW-8 Circuits - Call for price
#5870, 8/7 kW-10 Circuits - Call for price
#5872, 14/13 kW-14 Circuits - Call for price
#5873, 17/16 kW-16 Circuits - Call for price
#5875, 20/18 kW-30-40 Circuits - Call for price
** Prices includes composite mounting pad, transfer switch & generator. This price does not include installation (labor), parts, battery, permit.
Smaller air-cooled models, the economical option preferred by most customers, provide essential circuit protection for smaller homes. These pre-wired, pre-packaged units include the 100 Amp transfer switch with appropriate load center and virtually everything needed for installation. Installation can be completed in as little as one day.
Continuous Fuel
Circuit Coverage
Breakthrough Design
OHVI Industrial Engine
Electronic Governor
Superior Enclosures
UL Listed
Why GENERAC?
Why should you choose GENERAC® generators over other brands? Very simply, GENERAC has everything you need... superior product, unprecedented availability, the largest generator service organization in the nation and, believe it or not, Industry best pricing.
How do we do it? The same way we've been doing it for over 45 years. We design and manufacture our own product. We develop our own control systems and communications software and we create leading edge technologies that drive the future of standby power. Because we're more than an assembler, we employ cost-effective manufacturing techniques into our processes and we pass the cost savings on to you.
We believe that everyone deserves the protection of standby power. The products we make are the essence of quality, performance and reliability. That's why GENERAC sells more standby power generators than all of our competitors combined. If America prefers GENERAC, shouldn't you?
Why Own a Generator?
Imagine your life without power. The conveniences you enjoy and the essentials you rely on are suddenly gone. No lights, no heat, no air conditioning. No sump pump to keep your basement dry. The food in your refrigerator spoils. But it doesn't have to be that way.
With a GENERAC® Standby Generator, your power will return within seconds of an outage, keeping your home and your family safe and secure. Because it's fully automatic, your GENERAC Standby Generator will produce electricity as soon as it senses a power outage - 24 hours a day, 365 days a year, even if you're away. Unlike a portable generator, there are no switches to flip, extension cords to plug in or gas tanks to fill. GENERAC Automatic Standby Generators are connected to your regular natural gas or propane service, providing you with continued power during an outage of any duration.

The Premium Standby Generator
Premium features are standard for the ultimate standby generator. Thanks to the low-speed engine, it's so quiet you'll forget you own a generator until you need it. Ideal for large residential and small to medium commercial applications.
Low speed, automotive style liquid-cooled engine runs at only 1800 rpm during a power outage for a substantially quieter generator, greater fuel efficiency, and longer engine and alternator life.
Super quiet, super efficient, patented Quiet-Test™ mode for a weekly test mode that's quieter than other brands, consumes less fuel and helps make your Generac generator the most environmentally friendly on the market.
Standard aluminum, all-weather enclosure provides the ultimate protection from the elements. Aluminum's natural corrosion resistance prolongs the life of your generator and is recommended for salt-air, coastal locations.

Cost Effective Backup Power For Business
Generac makes it easy and cost effective to customize the exact backup power system your business requires. These generators often pay for themselves in one power outage, easily backing up a wide range of applications. Backup your large home or business and everything in between.
What can automatic backup power provide your business in a power outage?
Keep your security systems powered - protect your business from theft during a power outage
Insure against the cost of lost refrigerated goods - refrigerators and freezers never lose power
Keep your customers - your doors stay open to serve their needs in an emergency
Gain a competitive advantage- if your competitors are closed their customers will come to you
Safety for the community- schools, churches and municipal buildings can provide safety in an emergency
Proudly Serving the Northwest Ohio Area
Including Bowling Green, Findlay, Napoleon and Toledo